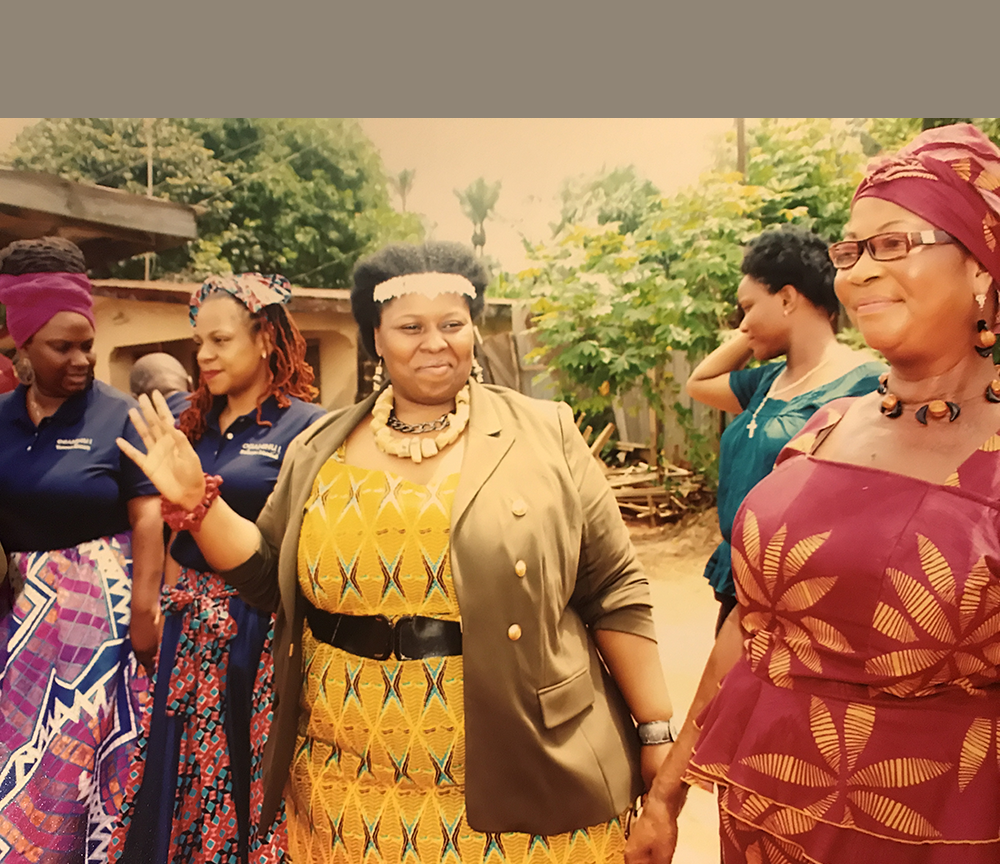 Auntie Peaches is a grass-roots herbal practice serving the community as a traditional education and health resource. Since 2016, Auntie Peaches has served over 20,000 customers globally in the United States and in other countries, to include, but not limited to Nigeria, Congo, Afghanistan and Italy.  Differentiated by the quality of our products and unique services, we align our expert knowledge, culture awareness and spiritual grit to our customers' objectives and needs to create a positive impact.  Auntie Peaches utilize Traditional African Medicine practices to create natural and organic handcrafted products to help individuals improve their physical, emotional and spiritual health.  Additionally, we provide a number of educational services, like: herbal consultation, nutritional live blood analysis, REAMS analysis, pelvic hydrotherapy and more.
Auntie Peaches aim to help individuals and families make informed decisions about their health initiatives by presenting fair information and knowledge about the benefits of botanical medicine. 
To provide locally sourced Traditional African Medicine (TAM), in the form of herbs, teas, tinctures, syrups, liniment, essential oils, butters, salves, and ointments that delivers as an accessible, affordable and sustainable health resource for the community.   
We have created a first-of-its-kind health community where consumers are invited into a conscious environment.  Auntie Peaches exudes a strong African culture to help unite consumers to the root of healing.  We believe that nothing happens in the physical before it happens in the spirit.  Hence, we take time to understand our customers chief concerns as well as underlying or subliminal issues to help them develop a framework for self-healing. Here, at Auntie Peaches, we operate off of God's healing principles – we believe the body heals itself.  And we understand that when individuals' goals align with their objectives, transformation happens.  We help one person at a time to ensure customer satisfaction.  So, when you visit Auntie Peaches, be patient.  As you open our door to enter, you are greeted "WELCOME TO AUNTIE PEACHES".  Just know, you are with family…
Lolo Oganihu I
Dr. Eshanda Obianuju James Nwamara, Ph.D., N.D., PSc.D.
Owner + Chief Traditional Naturopath

Lolo Oganihu I
Dr. Eshanda Obianuju James Nwamara, Ph.D., N.D., PSc.D.
Owner + Chief Traditional Naturopath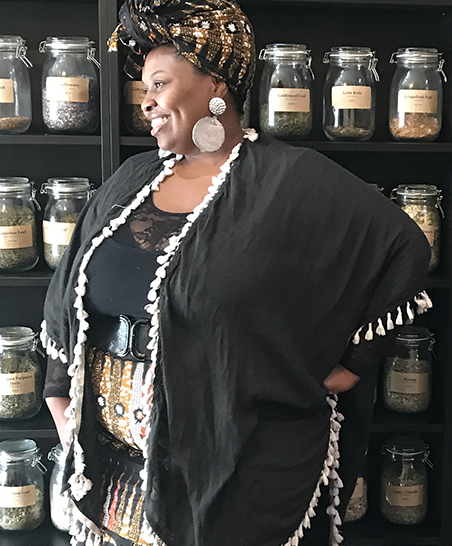 Lolo Oganihu I, Dr. Eshanda Obianuju James Nwamara, Ph.D., N,D., PSc.D., is a fourth generation medicine woman, family therapist, birth therapist, educator, author and dispute resolution consultant specializing in international peace and conflict resolution. Dr. Nwamara's prime focus and general research interest is in family development – she has a special interest in the advancement of African families' against the ravaging effects of abject poverty and other social conflicts. Dedicated to her research and passionate about family progression in Africa, Dr. Nwamara spent ten years (and counting) traveling to Nigeria to learn the culture, the people and the real issues experienced amongst families living in advancing countries. 
As a conflict analysis + resolution practitioner, Dr. Nwamara incorporates an interesting perspective in the field of herbal medicine. In this grass-root, naturopathic practice, Dr. Nwamara helps individuals understand disease as an "intrapersonal conflict".  Specifically, she understands that individual's personal decisions about their diet effects their health.  Two-thirds of our health is in our gut.  Poor dietary decision-making affects the level of parasites and bacteria in our body, which increases mucous production.  This increase of parasites and bacteria is the constant that connects us to disease.  
At present, Dr. Nwamara's extended focus is on individual and family health and wellbeing.  She believes women are the core foundation of the family, hence their social responsibility to their family and community.  Therefore, it is critical for today's women to be educated in herbalism and equipped with natural living remedies to heal self and family.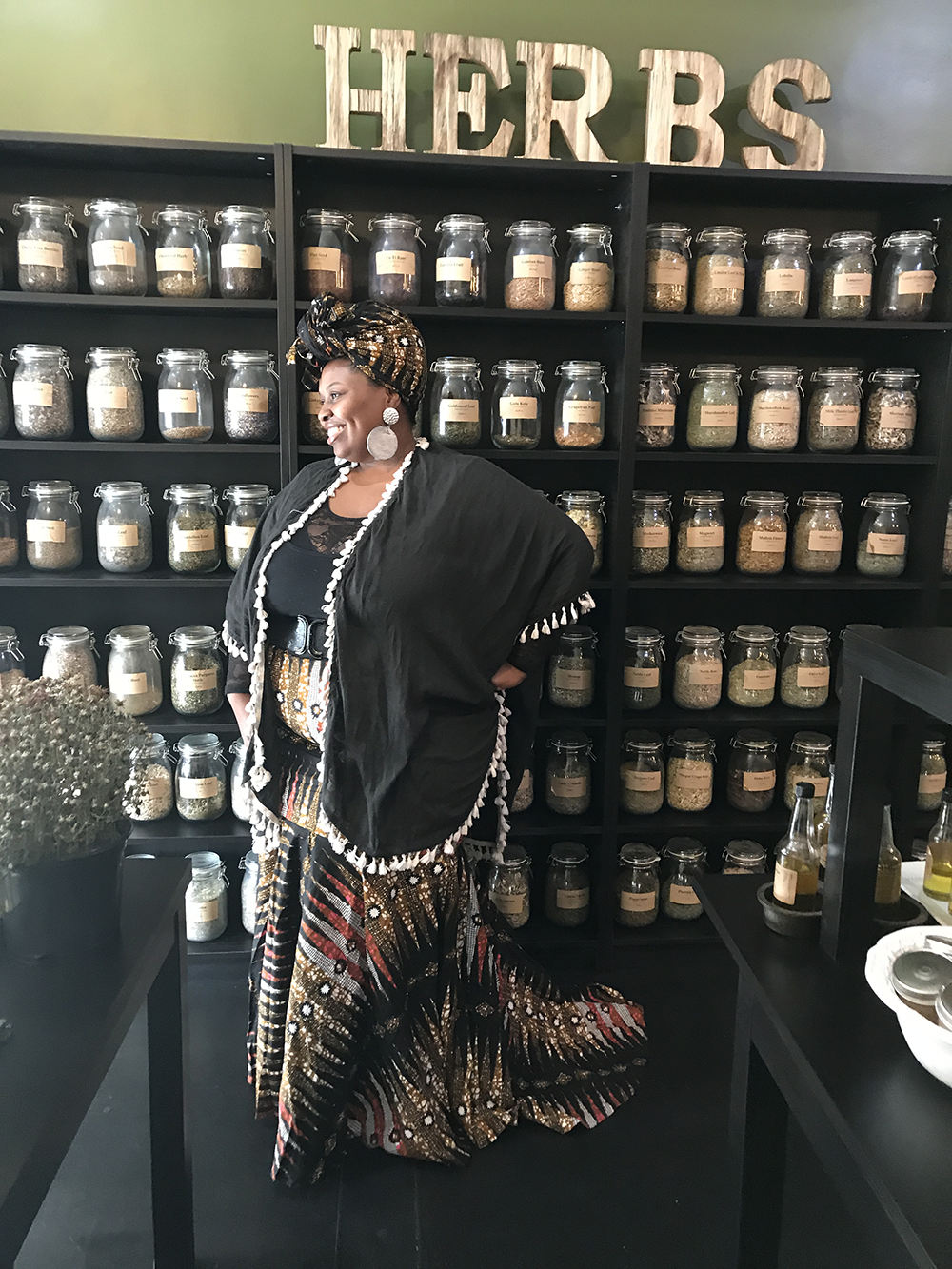 Casandra Nicole James, A.A.
Naturopathic Herbalist

Casandra Nicole James, A.A.
Naturopathic Herbalist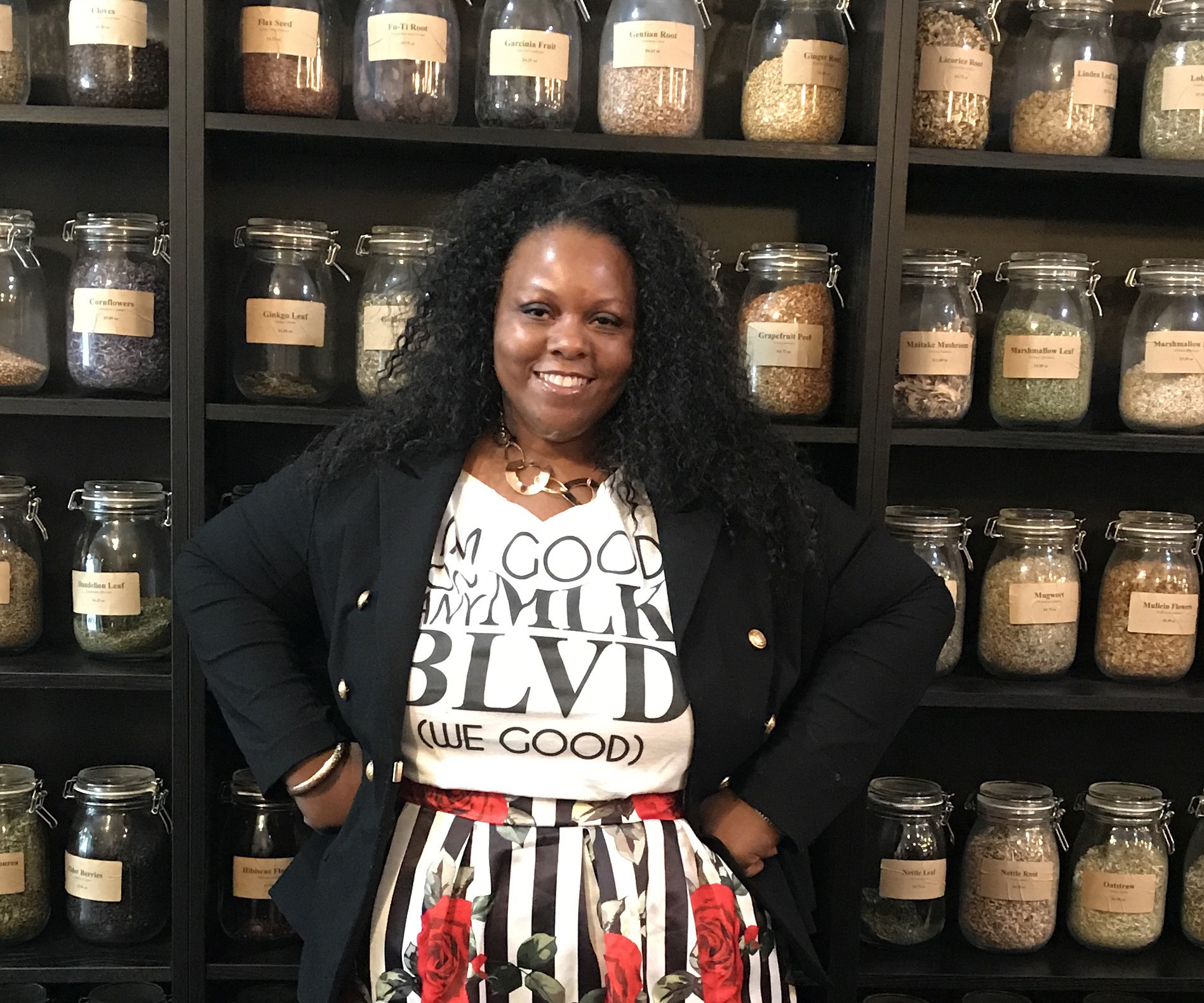 Casandra Nicole James, A.A., a retail expert with 20+ years of experience in business, implements a high-level operating model to encourage growth and development at Auntie Peaches.  She employs adept knowledge on money management to enhance our business budget, savings and investment processes.  Additionally, she oversees our sales strategies and Auntie Peaches customer service experience.  Casandra offers a creative plan to support our inventory expansion.